BIENVENIDOS. Somos una Firma especializada en Anticorrupción y Antilavado basada en Sustentabilidad, Integridad, Bioética, Investigaciones y Responsabilidad Social Corporativa.
 W E L C O M E  to OCA LAW IRM. We specialize on Anti-bribery and AML in México and LATAM region with focus on éthics, integrity, investigations, corporate bioethics, CSR and tax (books & records keeping provisions for FPCA purposes).
---
2018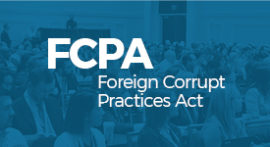 November 27 - 30, 2018 Washington, DC

---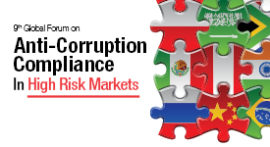 July 25 - 26, 2018 Phoenix Park Hotel, Washington, DC

---
American Conference Institute MEXICO CONFERENCE
---
2017
 Aug. Sept. & Oct. 2017 .-OCA LAW FIRM´s
National Anti-Corruption System
Awareness Campaign.
OCA LAW FIRM is determined to create awareness regarding the National Anti-corruption System, the "Proposed Integrity Manual" and every major topic surrounding anti-bribery & mandatory integrity programs in Mexican Corporations and NGOs.
Our agenda started with lectures and conferences for Private and Gov. Auditors at Accountants´ Colleges and Magistrates and Deputies. Second: we are currently visiting NGO´s as part of our pro-bono work; Third: email and social media campaign; Fourth: International lectures and conferences. FIFTH: Talks with magistrates, judges and commissioners related to anti-corruption and transparency. SIXTH: 45mins-1hr trainings with Local and Multinational corporations in Mexico.
Contact our trianing staff at: ocalawfirm@ocalwfirm.com and schedule your corporation´s training during august and september as part of our pro-bono work in light of the National Anti-corruption System.
The proposed Integrity Manual by the Ministry of Federal Administration DOWNLOAD HERE
---
July 2017 .- Anti-corruption Conference: "The Mexican National Anticorruption System and its connection with Internal Fraud and Money Laundering".
Puerto Vallarta, July 20 & 21  
---
 Foro NACIONAL ANTICORRUPCIÓN / National Ant-corruption Forum
@IMEFOFICIAL
What is "Criminal Compliance" in Mexico?
Is it different from a "robust compliance program" alligned with the FCPA or the UK-Bribery Act?

Just a trendy name for compliance perhaps?
Or just a marketing tool?
---
MAY 2nd. / 2 MAYO 2017
---
Enero/ January 2017 .- Foro OUTSOURCING en México 2017
---
-8-11 NOV. IAFEI WORLD CONGRESS - Cape Town, South Africa: ANTI-corruption Committe will be presenting "Anti-corruption Efforts from the inhouse perspective & financial implications".

Speakers:
Luis F. Ortiz - Oca Law Firm
J. Alfredo Ortega: CEO -McGraw Hill
-November 16-17, 2016 Bogotá, Colombia 
American Conference Institute @ACI_anticorrupt    @ocalawfirm.com
Speakers: Luis F. Ortiz - Oca Law Firm
SEPTIEMBRE / SEPTEMBER 2016
-Martes 6 Septiembre: Comida Anticorrupción: Dodd-Frank Act y sus implicaciones en México. Club de Industriales (Polanco) 13:30hrs info: @ocalawfirm @imefOficial

AGOSTO / AUGUST 2016
JUNIO / JUNE 2016
ANADE Desayuno Anticorrupción Juino 2016

IMEF Comida Comité Anticorrupción Junio 2016

ICC Desayuno Anticorrupción Junio 2016


Barra Mexicana Comida Anticorrupción Mayo 2016
MAYO / MAY 2016
Anti-corruption Conference Brazil & Washington

@ACI_anticorrupt

African Corporate Training

Guinea Ecuatorial Government and AML Special Unit Trainings and Assessment

OCA LAW FIRM Training (Only for Clients)

OCA LAW FIRM with Third Party Management Sofwares: Accutest® and PEPS experts.
---
 AFRICAN TRAINING
Formation contre le blanchiment d' argent


Ecuatorial Guinea Ministry of Finance May 2016: 
Groupe d'Action contre le blanchiment d'Argent en 
Afrique Centrale (GABAC)
Luis F. Ortiz & Angélica Ortiz Dorantes
 (Author & Mexican Bar member)


---
OCA LAW FIRM  &
THE GLOBAL REPORT ON ANTI-CORRUPTION
2014-2015
Golbal Report on Anti-corruption of México 2014(click here)
GLI - Bribery & Corruption Mexico OCA
 Global Legal Insights
---
Latin America is a complex jurisdiction when it comes to bribery,

due diligence & third parties.
We lead in Mexico City and Central America.
 LEADING FIRM on Anti-corruption according to
Latin America Corporate Counsel Asociation -LACCA

Guardar